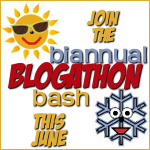 The Biannual Blogathon Bash (#blogathon2) is over! I didn't get everything on my list done, but I did accomplish more than I'd hoped over all.  That's always the way though, isn't it?  It's so easy to get distracted by things you've learned about or experiences you've had recently, especially when you're excited about them.
My weekend at BritMums Live definitely persuaded me to start a google+ page for this blog and reminded me of the importance of using the social media you participate in.  I will definitely be making sure I update both google+ and facebook more often.  I will also be sodding the stats and blogging for happiness more often because that's why I began blogging in the first place.
#Blogathon2 To-Do List:
Complete at least two mini-challenges – I completed 7!
Record an audioboo or two – I didn't get to this, but I will this week!
Clean out my blogging inbox – I didn't get to this one either!
Narrow down post categories, convert rest to tags – organised in my blog notebook, but not on the blog, yet.
Write a couple of guest posts – drafted
Participate in at least one of the Blogathon twitter parties – check
Take loads of notes and tweet a lot at BritMums Live – check
Create proper about me page – drafted
Create proper disclosure page – drafted
I've also replied to all comments left on my mini-challenge post and am in the process of visiting all your lovely posts to leave comments.  If you enjoyed creating your collage, please share the post with a friend or pin it!
I  created a google+ page for my blog & updated my banner image on my facebook page.  I've not got very much on the google+ page yet, but I've got some plans that will hopefully make it awesome.
I'm also looking to update all my social media icons in the next week.  Have you seen any amazing ones lately?  Would you care to share them with me?  I'm on the lookout for ideas.  Thanks!