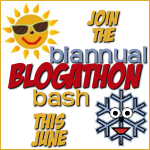 I've known for awhile that the Biannual Blogathon Bash starts tomorrow – yes it overlaps with BritMums Live, but I decided to be daring and take on both.  There are some changes I'd like to make here at American Mom in England and I'm hoping that these two events will be enough to kick my butt in to gear so that I get them done.  If you'd like to join in the Blogathon there's still time to sign up & if you do please come back here and complete my mini-challenge.
While I'm going to be doing nothing, but blogging related stuff for pretty much the next two days, I thought I'd write down a handful of things I want to have sorted by the end of the weekend.
#Blogathon2 To-Do List:
Complete at least two mini-challenges
Record an audioboo or two
Clean out my blogging inbox
Narrow down post categories, convert rest to tags
Write a couple of guest posts
Participate in at least one of the Blogathon twitter parties
Take loads of notes and tweet a lot at BritMums Live
Create proper about me page
Create proper disclosure page
Honestly, I probably won't accomplish it all and that is okay.  I highly suspect I'll be having too much fun at BritMums Live to accomplish much admin stuff.  I'm taking my laptop with me though, so who knows.  At the very least, I promise at least one post on my impressions of the conference.  Here's wishing you luck in achieving your goals!
What tasks do you have on your blogging to do list that you never quite seem to find time to do?  Will you join me in setting aside time to do them this weekend?   Or will your Sunday be spent recovering from BritMums Live?