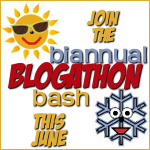 This is a mini challenge that is part of the Biannual Blogathon Bash taking place from June 22 – 25th.  Essentially a bunch of bloggers are all promising to spend 24 hours working on making their blogs better over a weekend – which is kind of brilliant.  Whether you choose to take part or not, you're more than welcome to create your own collage, but only those registered for the Blogathon will have a chance to win a prize for their participation.  If you are participating in the Blogathon please don't begin the mini challenge until the Blogathon begins 'cause cheating just isn't cool.
Have you ever visited a blog and attempted to read a post which is roughly 20+ full width photos with a line or two of text between each one?  Do you tend not to bother actually reading the text?  I know I do.  Instead I prefer to leave my readers with a block or two of photos formatted into a lovely collage that works with my writing and tells a story.
How to Make a Photo Collage in 9 Easy Steps
I hope you have all heard of PicMonkey because it's wonderful and amazing.  You can easily create free photo collages for your blog and Facebook page without having to download anything except your finished image!
Step 1 – Go to PicMonkey and click on Create a Collage.
Step 2 – Click on Upload Photos.
Step 3 – Select multiple photos to upload.  I always upload more than I think I'll need in case one doesn't work.
Step 4 – Click on Layouts icon.
Step 5 – Scroll through layout options to find one you love.
Step 6 – Click on Photos icon, drag and drop your images into place, then click on the backgrounds icon.
Step 7 – Set border spacing, roundness, and transparency. Then click save.
Step 8 – Name your file and download it.
Step 9 – Make sure to save your file in a folder where you'll be able to find it.
The finished product. Enjoy.
The Challenge:
Make a photo collage and upload it to your blog.  See if you can use images to tell a story that gels with your words.  Then come back and link it up here!