I have a black bracelet studded with stars, a fearless girl I knew a decade ago often wore it.
She was completely comfortable in her own skin. One of those girls who at 20 inherently knew what suited her and stuck with it. She didn't mind being cute as it fit her somewhat bubbly personality.
Her diary was full of events, Phi Sigma Rho meetings, Sigma Alpha Iota meetings, Pan-Hellenic Council meetings, IEEE meetings, choir rehearsals, sorority and fraternity socials, as well as parties and dinners with good friends, not to mention university classes and a work placement.
She loved to cook, sing, dance, eat, laugh, talk and think about the world.  She kept a livejournal and often amazed her friends with the poetic nature of her prose.  She lived and loved passionately.
She was never afraid to be herself and challenge the status quo. She spoke out bravely about the injustices she saw in the world.
Then one night at a party it all changed.
She helped some friends convince another girl, who was far too drunk to be making decisions for herself, not to go into the attic to hook-up with a guy who would only take advantage.  The fearless girl spoke out, stating that the guy in question would be okay with the drunken girl not following him, because he was strong enough to handle it.
Then the guy in question burst through the door at the bottom of the attic stairs, grabbed the fearless girl's neck and threw her partway down the hallway into a wall.
In that moment a fissure formed inside of her.
Friends rushed to her aid and pulled her assailant off down the stairs away from her.  The rest of the evening passed without much event, until she left to go home.
On the front lawn she encountered him.  There were words.  She told him what he had done was not okay.  He told her she wouldn't do anything about it.
She knew then that she must.
She walked to the house of another very good friend who had worked as a resident assistant (RA) the previous academic year.  He would know what to do.  She would be safe there.
He contacted the staff member who supervised all the RAs who helped her contact the campus police and made sure she saw a doctor to assess injuries to her neck and back resulting from the incident.
That night her assailant was arrested.
The next morning the fissure inside widened a bit more.
You see, the villain of her tale was a very good friend of both of her ex-boyfriends and thusly they had many friends in common.  When the university they both attended imposed sanctions upon him to keep him from drinking to excess and hosting parties where others may do so, many friends blamed her.
For standing up against violence towards women, she was judged by many to be the evil girl who wrecked his life.  A deluge of cruel comments began to land on her livejournal and a plethora of hateful words were directed towards her face.
The fissure that had widened into a small crack grew larger.
After months, the case was brought first before the local courts, where her assailant was sentenced to undergo Anger Management training, and second before a review board at the university, where it was decided he would be prevented from taking any leadership roles in his fraternity or in any other campus organisation.
He went through the court required Anger Management course which changed his life for the better.  He finished university and went on to a successful career.
The hatred directed towards the once fearless girl lessened a bit at this point, but fissure that widened into a small crack which grew larger and larger until it was a gaping hole.
She was broken.
She left university and sought help, but it would be years before she was able to feel whole again.
I know this because I was that fearless girl.
I'm not quite so fearless now, the gaping hole has healed, but its mark on me will never truly be erased.
Sometimes when my husband or son starts to put their arms around my neck to hold me or hug me, I cringe, find a lump forming in my throat and feel a slight panic wash over me.
I'll never forget who I was then and I dream someday I might find that version of me again.  Sometimes I attach this black bracelet studded with stars to my laptop case.  Having it with me, gives me strength to be a little more fearless.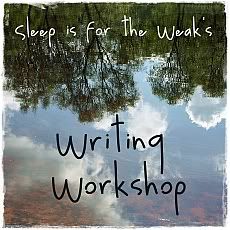 This post was based upon the following prompt from Sleep is for the Weak's Writing Workshop.
This week I want you to take an item of clothing, or an accessory that sums up something about yourself – perhaps an aspect of your personality, or that represents your taste or style, or that stands as a reminder from something in your past, evoking a memory, and write about it.